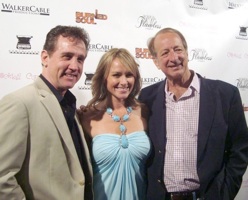 Chuck Walker
Chuck Walker, of WALKERCABLE PRODUCTIONS, has been involved in the entertainment industry for fifty years, starting out as a dancer, then branching into acting and finally to his current position as writer, producer, director.
As a writer he has optioned more than twenty scripts and has produced and directed more than twenty films, including several distributed by Lionsgate.
Chuck has had the pleasure of seeing some of the giants in the industry in his movies, including Academy Award Winner, George Kennedy, Emmy award winners Eric Braeden and Armand Assante, Billy Zane, Sean Young, Carol Alt, Lorenzo Lamas, and many others.
And if sports fans find the name familiar, Chuck was a member of the most revered Olympic Boxing Team of all time, participating in Montreal in 1976. As a professional light-heavyweight he was rated as high as number four in the world.